VISA TO RUSSIA
How To Get A Visa To Russia
You can get your Russian visa at Russian consulate. Only Russian consulates are authorized for issue visas to Russia. To apply for your Russian visa you can bring yourself your documents and Russian visa application to the Russian consulate. Many Russian consulates may receive your Russian visa application sent by post service. Before going to the Russian consulate, consult visa requirement for Russia at the official web-site of the consulate or call them to ask your question to a visa department of the Russian consulate. Usually you are required to present your visa invitation for Russia, your passport, your Russian visa application form and 2 photos. The list of documents may vary depending on the country of your residence. But always the main reason to apply for your Russian visa is your visa invitation for Russia.
Russian Visa Invitation – Visa Support
Russian visa invitation, also known as Russian visa support, is an official document which states the purpose of your travel to Russia and also terms of your visit. Your visa invitation for Russia may be for business visa or for travel visa. Business visa i nvitation for Russia may be issued on a special official paper form processed by Russian Foreign Ministry or by Migration Service. Some times business visa support, ie visa invitation, may be sent via telex from Russian Foreign Ministry to the consulate, in this case you can apply for your Russian visa with a number of your telex visa invitation. Business visa invitation can be for a single, double or multiple entries visa for 1,3,6 or 12 months. 
Travel visa invitation, also known as a tourist voucher, is issued only in paper form, but many times Russian consulate admits it in copy – there is no need to obtain the original from Russia. Only authorized Russian travel companies may issue travel or tourist vouchers for a single or double entry travel visa
No More Than 90 Days Per Semester
Limits For Stay In Russia 90 Days Every 6 Months On A Multiple Entry Business Visa:
For a long time there were no restrictions to stay in Russia for Russian multiple visas. This limitation has been formulated in October 2007 in Russian Migration Decree No 635 (dated 04.10.2007)
Before there was no such a limitation. But in 2007, Russian Government imposed such a restriction on the basis of international practice. The Law settles that the total duration of stay of foreign citizens in the Russian Federation on a multiple entry visa (in particular, for multiple business and humanitarian entrants) is set not more than 90 days during each period of 180 days. Ie it does not matter whether the alien has spent 90 days in Russia without leaving or has visited Russia several times for short time, the total cumulative number of days spent in Russia on the same visa must not exceed 90 days within six months. Thus, in 2008, many foreigners have faced an unusual need to control the number of days spent in Russia, and to go out regardless of the business, any time when it is necessary to comply with the law. Naturally, this need causes inconvenience to those foreign citizens who should be in Russia permanently in the interests of business. Now they have to leave Russia after 90 days of stay, and then they can come back to Russia on the same multy visa only when the first 6 months of the visa end. Of course, this restriction (90 of 180) is not essential, if a foreign citizen comes to Russia every month for 2 weeks, no longer.
But What Can You Do To Stay In Russia For A Year?
There is a solution.- to get a work visa. For this visa there is not a limit to stay. But working visa is entirely competency immigration authorities of Russia and is regulated by immigration policy of the country.
The Fact That Visas For Short-Term (Less Than 3 Months) Stay In The Country, According To Current International Practice, Is Regulated By The?
Visa policy of a Country, but visas to stay more than 3 months, have been referred to the immigration policy of the State. Accordingly, the status of the holder of a such visa, the procedure and the procedure for issuing these visas and issuing government agencies - are different. Visa policy of the country is forced to be build on the basis of international principles, on the basis of international agreements and arrangements. But the immigration policy of the state is a purely internal affair of each country, and it aims primarily to protect national interests in demography and employment.
Om Travel Agency is providing assistance in obtaining a visa at short notice and at low cost.
Russian Visa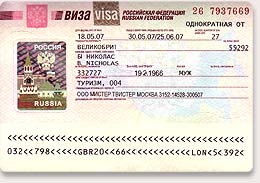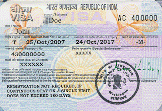 Dates of registration and the prices of Russia visas to citizens of India:
| Validity | Type |
| --- | --- |
| 15 Days | For Tourist Visa |
| 3 Months | For Business Visa |
| 6 Months | For Business Visa |
| 1 Year | For Business Visa |
Documents required for the Embassy of Russia:
Passport, which expires no earlier than 3 months after the trip;
Two photos of 3X4, (coloured with white background);
Copy of first page (with photo) and pages of registration, the internal passport;
for a child having a passport is always attached a copy of a birth certificate;
For citizens of Commonwealth of Independent States and other countries: * copy of the registration validity of the passport must be at least 6 months.